Over the years, users have told us that Stack Overflow is an indispensable tool for coders all around the world. Programmers know that when they get a Stack Overflow search result, it's likely the search is over. Following that link almost always gets a step closer to understanding whatever programming problem they face. Failing that, they can ask some of the world's most helpful and skilled developers directly. It's hard to imagine what it was like to write code before Stack Overflow was created just over a decade ago in 2008.
If you weren't programming in the BSO (Before Stack Overflow) era, you don't know what a golden age we live in. It's not that the information wasn't available at all, but rather it was difficult to make the right connections: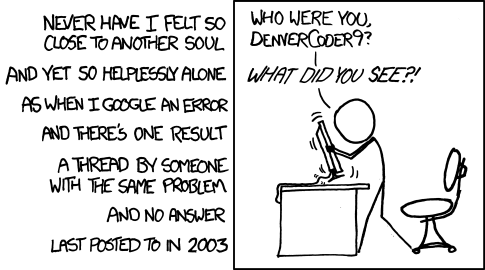 In those days programmers used a variety of incantations such as AltaVista, WebCrawler, ICQ, Gopher, IRC, LISTSERV, Usenet, man and even O'Reilly to summon answers. How many times did I come to work early in order to borrow a copy of UNIX in a Nutshell from a possessive co-worker? (Yes, Jim, I knew you didn't have those shell commands memorized. I saw you furtively flipping through that book when you didn't think anyone was watching.) Oh how I revelled when I drove home from the university bookstore with the student edition of Borland C++ and its glorious manuals! Now I had the knowledge!
Helping people wasn't paradise back then either. Answer once in one forum only to see the same question in another a little later. (Probably from the same asker since you could never be sure where the best place to ask was.) Compiling a FAQ might have helped people, but nobody says "I loved the FAQ! It solved my problem." Instead, they are all like "I read the FAQ, but it didn't help." Or they don't read the FAQ and just ask their frequently asked question. Nobody upvoted the FAQ.
It seems a shame that it took two decades from the invention of the Web before a fully-featured, public Q&A engine was built. Just think of all the time (and trees) we could all have saved by having easy access to canonical library of answers. In an effort to (retroactively) make the world a better place, we're cutting that dark time in half. We're proud to announce a new Time Machine feature that lets you experience Stack Overflow when it should have been around: not 2008, but 1998.
As you enjoy surfing the site, let us know in the answers below if you spot any questions that could have been answered in 1998 when we had:
JavaScript but not jQuery
C++ but not Boost
Ruby but not Rails
Java but not Eclipse
C but not C#
Python but not Django
Visual Studio but not .NET
And if you spot any bugs, let us know what version of Netscape Navigator you are on and we'll get our webmaster on it right away. (Sorry, but we don't yet support Communicator you trailblazers.)